Text-based interaction and speech recognition techniques have gained massive popularity over the years. They have made significant contributions towards business growth. AI-powered conversational agents offer a spectacular customer experience. They empower enterprises to scale and grow rapidly. Conversing with customers is now much easier. This is due to the regularized use of conversational artificial intelligence technology in enterprise process automation. This article will serve as an in-depth guide. It aims to help readers understand the role of conversational AI in enhancing businesses.
What is Conversational Artificial Intelligence Technology? 
Conversational Artificial intelligence (AI) is a technology that enables effective communication between computers and humans. It can understand speech or text patterns. It can predict user intent and provides automated responses through AI voice assistants. Artificial intelligence technology, such as Conversational AI, facilitates contextual dialogue exchanges between humans and machines. This is achieved through NLP, ML, ASR, and Advanced Dialog Management. 
The best conversational AI applications can create natural, human-like interactions. They can help enterprises with streamlined operations. Thus, leading to a boost in productivity, efficiency, and revenue generation. Using conversational AI allows enterprises to deal with various tasks seamlessly. These tasks include answering queries, resolving problems, engaging with customers, and more. Implementing conversational AI applications can deliver services with minimal human intervention.   
Why is Conversational Artificial Intelligence Technology a Need of an Hour for Enterprises? 
With the emergence of new applications, conversational AI potentially represents a major revenue source. It supports lead generation, automates customer service, collects insights for business growth and scalability, and much more. 
As customer expectations evolve, so do the solutions. Conversational AI, ML, and NLP play a crucial role in enhancing customer interactions. These technologies enable enterprises to engage with customers more efficiently, intuitively, and empathetically. They ensure a seamless and highly personalized customer journey across various channels. Suppose a customer first engages with a company via text through a virtual AI assistant.  In that case, the relevant information (including customer intent and data analysis) can be shared with a live agent. This helps enterprises solve queries instantly, score leads, and even keep customers duly engaged.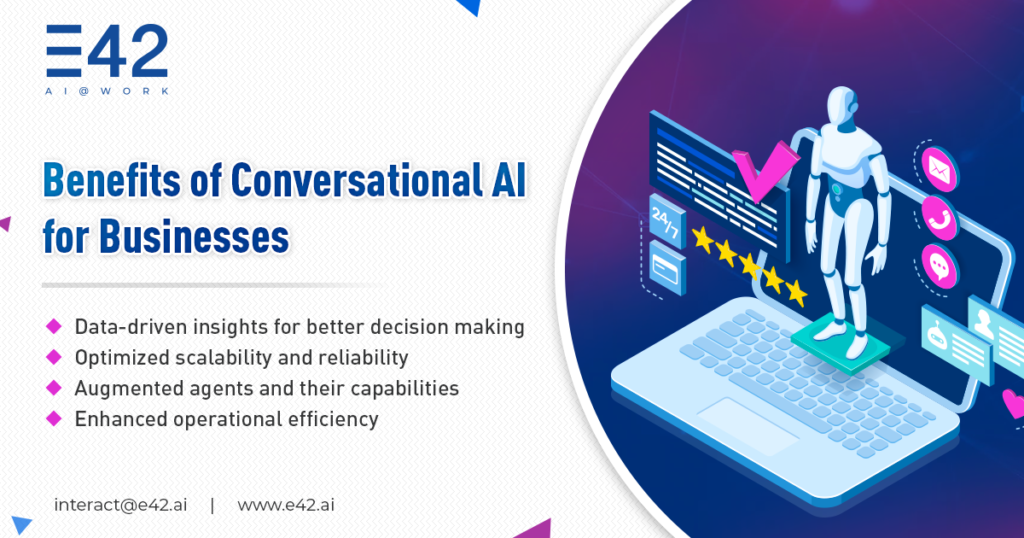 Benefits of Conversational AI Applications for Enterprises 
It is often extremely challenging for enterprises to provide a personalized experience to customers. Artificial Intelligence technology like Conversational AI addresses this challenge. It aims to provide solutions to customers with free-flowing interaction. 
Data-driven insights for better decision making 
Enterprises are adopting conversational AI to gain a deeper understanding of customer concerns. This is achieved through data-driven insights. AI messaging, brief surveys, and feedback mechanisms allow businesses to assess the quality of customer experience. AI agents provide detailed analytics to business owners. Thus, offering valuable insights for enhancing the overall customer journey. With machine learning, businesses can access valuable feedback and make better decisions based on it. 
Optimized scalability and reliability 
Conversational AI systems help enterprises in processing tasks at a much faster rate. This frees experts to focus on more complex interactions. These AI tools are specially designed to learn from customer interactions. Thus, allowing businesses to improve relationships and consumer satisfaction levels. Businesses can now access AI-led automation solutions with multi-channel capabilities that aren't only limited to chat or email services. When responding to customer inquiries, many AI-enhanced systems are capable of processing data from social media sites like Facebook and Twitter. These platforms can detect lead opportunities and prioritize them. This ultimately turns out to be highly beneficial for organizations. These tools can improve customer service and pave a path for scalable long-term ROI for organizations. 
Hire cognitive AI co-workers for your enterprises now to have a hassle-free and efficient workforce, revolutionizing your business operations! 
Augmented agents and their capabilities 
Advanced Artificial intelligence technology such as Conversational AI revolutionizes customer service by offering self-service functions. Customers no longer have to wait in queues or on the phone line to get their queries resolved. They can resolve their issues instantly. That being said, in the digital age, intelligent 'augmented agents' go beyond basic engagement. These cognitive AI co-workers are capable of making human-like decisions. They can generate actionable insights, alerts, and notifications during customer interactions. These business process automation solutions combine the power of AI with human creativity to provide constant support and deliver a stellar customer service experience with empathy. Furthermore, these solutions can keep track of all the relevant data in real time. Thus, reducing the workload and saving time for more important tasks.    
Enhanced operational efficiency 
AI co-workers enhance business productivity and reduce labor costs. By automating the most mundane tasks, businesses can achieve greater efficiency in a shorter time span. Conversational AI tools can automate calls, chats, and emails. Thus, making it possible for users to interact via multiple channels. Instead of relying on a customer service expert for every small query or complaint, they are capable of instantly resolving most issues on their own with minimal human intervention. 
Conclusion 
Business owners face fierce battles, and customer service is crucial for business growth. Innovations in conversational AI are set to fuel digital transformations for the future. Studies have shown that those who have leveraged this technology effectively are more likely to outperform their peers in the near future. Artificial Intelligence technology like Conversational AI is extremely helpful for enterprises scaling in today's competitive market. As customer expectations continue to rise, Conversational AI can help enterprises deliver a consistently high level of customer service at scale. With features like automated self-service and 24/7 support, conversational AI allows customers to interact with support teams effortlessly. Thus, solving their issues in minutes, assuring a great customer success story for enterprises.     
Make your Enterprise Intelligent with E42 
E42 is an AI-NLP-powered platform to create intelligent AI co-workers. It helps enterprises build cognition into businesses. From enhanced customer experience to the reduction of query resolution time to the generation of insights and analytics for marketing and sales – the AI co-workers created on the E42 platform are capable of automating multiple business processes across domains and functions. E42 provides end-to-end automation to businesses and enterprises across multiple industries like healthcare, BFSI, IT, Sales, marketing, etc. 
To kickstart your business with AI, write to us at interact@e42.ai!